The Challenge
The client has just launched their new product variant — a multivitamin gummy that contains fish oil as ingredients. They wanted to create an interactive media to introduce their product details such as flavor variants, gummies quantity in one pack, product characters, etc.
This game's target audience is mothers aged 25-40 years old with kids aged 2-12 years old. These moms believe that to prepare their kids for their future, investing in their health as early as possible is important.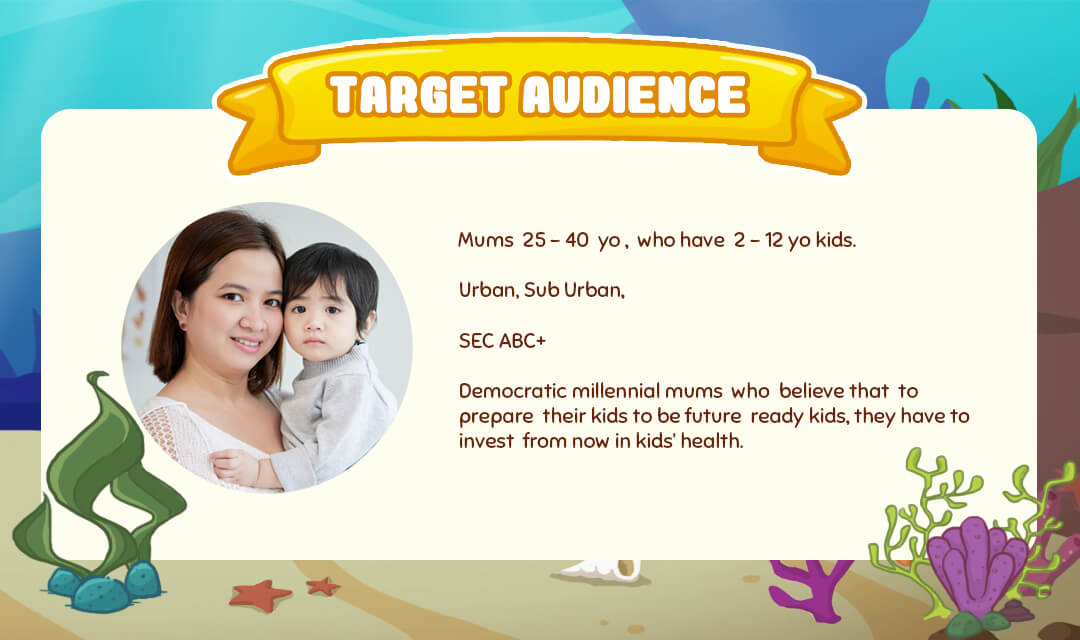 The Process
After taking the client's requirements into consideration, our team brainstormed internally and crafted the game by focusing on child-friendly illustrations with some marketing aspects written carefully. The goal is to encourage players to buy the products or vice versa. However, the game is not the main product, but its purpose is to support Cerebrofort Marine Gummy.
- We assessed the information provided and brainstormed the gameplay, with reference from Pokemon and Fishdom (mobile game).
- After deciding on the gameplay, features, and in-game flow; we sketched out the general designs.
- Our team created wireframes for the main menu, fish tank, and Fish Dex (pet fish collection).
- After the wireframe was complete, we conducted internal testing within the team on how the flow works.
- While the testing is in progress, in parallel, our artists conduct User Interface research on the best design to present the game for the suitable audience.
- Then our artists made illustrations for in-game assets, such as background, decorations, fish, etc.
- After initial testing, we continued creating User Interface for the game.
- When the assets were completed, we conducted a final test with more users while still consulting with the client.
- There are three categories of fish: Small, Medium, and Large. Players can collect 20 fish in total. The fish are further sub categorized as "common" fish and "rare" fish, which are harder to get. They can get more pet fish by scanning the QR code inside Cerebrofort Marine Gummy packaging. Every player gets one starting fish, which is the Regal Blue Tang.
- Players can increase the happiness of their pet fish by giving them pellets and pills. They can get pellets and pills from in-app purchases. Besides feeding the fish, players can also interact with them.
- If players maintain their fish to be happy, the fish will evolve quicker. This will encourage the players to feed their fish regularly.
- Players can also decorate their fish tanks. There are platformer side-scrolling minigames and special events to get gummy rewards, which can be redeemed to unlock fishtank & decorations. Players can also interact with the decorations.
- Players can log into their Google Play Games account to save their progress.
- After all the iterations, the game was finally released on Google Play Store for Android.
The Result
After the game was launched, our client was satisfied with the end result and decided to continue this campaign as offline events. We also got lots of positive feedback from the players, and many of them managed to finish their fish collection.